Wood Veneer 4U, Supplies Trade And DIY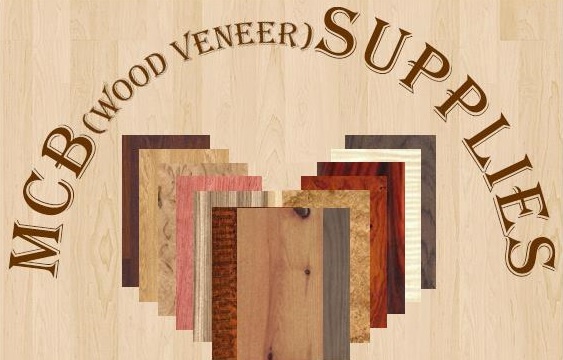 AT ANY TIME CLICK OUR LOGO TO RETURN TO THIS HOME PAGE
BEFORE ORDERING PLEASE ACQUAINT YOURSELF WITH OUR TERMS & CONDITIONS OF SALE
BUY WOOD VENEER SHEETS ONLINE
All sheet images on this site are as true to colour as possible, but being natural wood, grain and shade variations are inevitable.
UNLESS OTHERWISE STATED ALL OUR WOOD VENEER IS 0.6mm THICK

DISPATCH DETAILS
NB All carriage rates and button prices quoted on this site are for delivery within the UK mainland only.
TO OBTAIN THE CHEAPEST SHIPPING RATES FOR MULTIPLE PURCHASES OF DIFFERENT ITEMS, FOR GOODS THAT DO NOT HAVE A BUY NOW BUTTON
OR FOR DELIVERY OUTSIDE THE UK MAINLAND.
Please click HERE and enter the item code and quantity required in the Goods Code & Quantity boxes on our contact form.
You will then receive an automated email confirming receipt of your form, followed by an E-mail pro-forma invoice containing instructions, a link to our payment page, options regarding payment,
and a unique order code if you wish to pay by card.
FLAT CUT STANDARD 0.6mm VENEER
Where possible veneer is rolled and dispatched by Royal Mail first class post
Large or heavy orders wil be sent via 1-2 working day carrier
FLAT CUT CLEARANCE SALE ITEMS
Where possible veneer is rolled and dispatched by Royal Mail second class post
Large or heavy orders wil be sent via 3-5 working day carrier
STRINGING & BANDINGS

OUR S/D (standard delivery) IS VIA 3 WORKING DAY CARRIER, BUY NOW PAYMENTS RECEIVED SUN TO THURS INCLUSIVE BEFORE 8PM WILL BE DISPATCHED THE FOLLOWING DAY.
BUY NOW PAYMENTS RECEIVED FRI & SAT WILL BE DISPATCHED THE FOLLOWING MON.
OUR P/D (priority delivery) IS VIA 1st CLASS MAIL OR EXPRESS CARRIER AND WILL BE DISPATCHED THE FOLLOWING WORKING DAY.
For items not on buy now buttons (special order) please allow 4 working days after payment for dispatch, unless otherwise advised.
OUR E/D (economy delivery) IS SPECIFICALLY FOR 1mt LENGTHS OF BANDINGS AND STRINGS WHICH WILL BE CUT TO 3 x 330mm LENGTHS
TO ACCOMMODATE DELIVERY VIA 1st CLASS MAIL AND WILL BE DISPATCHED THE FOLLOWING WORKING DAY.
GENERAL ENQUIRIES
Please click HERE and state your requirements in the comments box on our contact form.

NB some items are indicated as non stock, and as such, will be subject to a non stock items surcharge of £18 to cover the cost of ordering / carriage from our suppliers.
The conditions above only apply to orders with a non stock goods value of under £150.
For orders of this nature please allow 4 working days after receipt of payment for dispatch.

Our standard raw sheet wood veneers are 0.6mm thick and sold by square foot price at stock sheet size.

Minimum order within the UK/Europe is goods to the value of £10.00
Minimum order to all other destinations is goods to the value of £25.00
STANDARD STOCK SHEETS WITH DISCOUNTS UP TO 45%
SHORT, NARROW OR IMPERFECT WOOD VENEER SHEETS, INLAYS & SMALL BURRS AT UP TO 90% OFF
VISIT WOOD VENEER 4U TRADE PAGE
FOR HOT MELT WOOD VENEER ADHESIVE(GLUE FILM) FROM AS LITTLE AS £03.44
AND UP TO 50% DISCOUNT ON STANDARD WOOD VENEER WHEN PURCHASING 10 OR MORE SHEETS
Veneering tips & hints
First, select the wood veneer you require according to colour and grain type.
Remember raw sheet wood veneers are only as wide as the trees from which they are cut, and species of trees vary enormously in size.
It would be impossible to buy for instance a sheet of Yew wood veneer @ 45cm (17.75") wide but feasible if the sheet was, instead, Mahogany or Bubinga.
When contacting your suppliers ask about the wood veneer they have in stock to accommodate your specific requirements.
Where there is a large area to cover or a special effect is desired you can have great fun by using book-matched wood veneers.
Book-matched or mirrored wood veneers are wood veneer sheets cut from the same log, one after the other, with the result, that as many as four to six sheets may be obtained,
which are to all intents and purposes identical to one another.
When used in the same way as one would open the pages of a book, some really spectacular effects an be achieved.
Placed together in the right way four single leaves of flame/curl wood veneer, as shown below,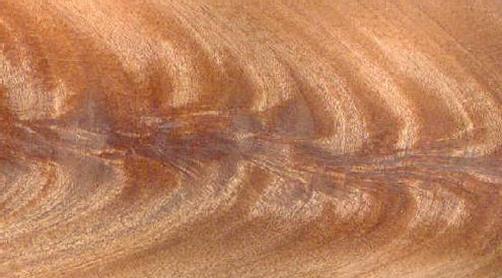 can be made up into any one of these symmetrical variations by stitching them together on the face side using veneer tape.
Obtainable from any good sundries supplier.
Once firmly fixed the tape can be removed either by damping and peeling away, or in the flatting down process prior to finishing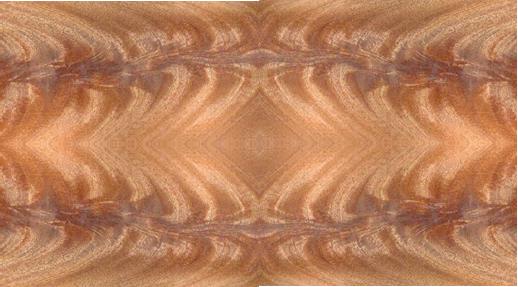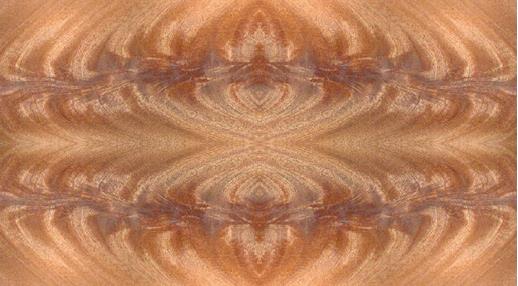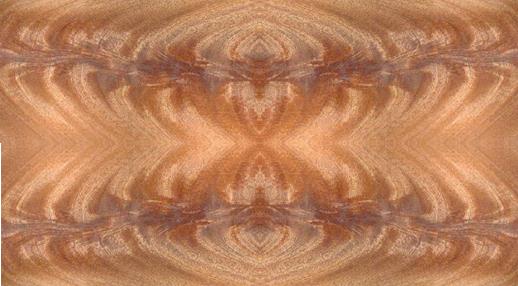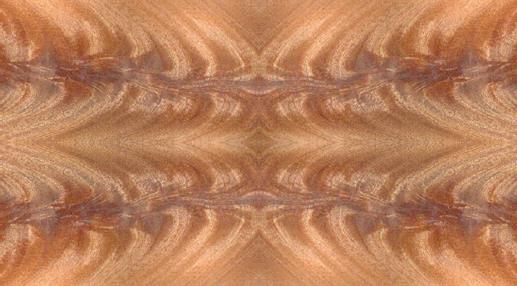 Often this process is applied when using Burr wood due to it's smaller size, as one would not expect to obtain a single Burr of much more than six square feet.
Burrs by their very nature are irregular in shape and size so it is virtually impossible to obtain supplies of the exact size required,
especially as they are usually sold in pairs. You may be able to buy Burrs cut to a particular size
but remember you will, in all probability still be paying for the complete Burr, as any surplus would be of very little use to suppliers.
It is always preferable to buy the complete burr and cut it to your own requirements.
This means that you can select the best pattern for your needs, and still have pieces remaining which may be large enough for a small project.
Some waste is inevitable when using Burrs.
When cutting any wood veneer always allow a minimum of three millimetres overlap to every edge.
If you are working on a piece that requires edging strips don't forget to add this to the size when purchasing .
It is always better to cut your own edging from the top sheet in order to achieve a matching grain to the edges of your piece.
Always apply edging before applying the top sheet as you do not want to see a joint, no matter how small, on the main surface of your work.
The next thing to think about is fixing and deciding which Adhesive/method to use. This will depend on conditions and the substrate material.
Using hot melt wood veneer adhesive (Iron-on Adhesive/Glue Film) is an easy option but it is only suitable for use on veneers with a thickness of 0.7mm or less.
Glue film adhesive is a hot melt adhesive film on a release paper backing, which is applied to the article (substrate) you wish to veneer using a domestic iron on a medium setting.
when cold remove the backing paper from the glue film adhesive, the surface is now ready to accept the wood veneer of ones choice.
When applying the wood veneer it is advisable to use a sheet of brown wrapping paper (avoid printed paper) between the wood veneer and the iron to avoid scorching.
( do not use the backing paper as this has a waxed release face which will be forced into the veneer making the application of anything other than wax in the finishing process almost impossible)
At this point your iron should be turned up to it's maximum setting, i.e. 200º c. if using burr wood veneer it is sometimes better to double up on the hot melt film.
The setting time for hot melt glue film is practically instant, depending on the temperature of the actual Adhesive.
If one follows the hot iron instantly with a cold heavy metal object (such as the face of a carpenter's jointing lump hammer or old fashioned smoothing iron)
applying pressure as one goes, not only is the curing time reduced, but bubbles or wrinkling can be eliminated.
Hot melt wood veneer adhesive is also very economical because even small pieces can be patched together to cover large areas.
At 730mm wide it can be obtained from as little as £2.80 per linear metre equal to £03.83 per square metre.
NB
The substrate must be, clean, dry and smooth. Ensuring that it is free of dust, grease, wax & any other contaminates before application.
See Hot melt application tips
When using contact adhesives it will usually have to be applied to both surfaces which are allowed to dry before being ready for application.
(Due to the multitude of contact/impact adhesives on the market you would be well advised to see the manufacturers instructions on the product you are using)
Because when both surfaces come into contact with each other they form a bond it is important not to let this happen, (until you are absolutely sure positioning is correct).
One way of achieving this is to place some narrow strips 30-40 mm wide] of thin stiff card or similar material on the surface of the article being worked on, about 30-40 mm apart,
and starting about 25 mm in from the end on which the work is commencing. Place your sheet over the strips and position it accurately.
When happy it is positioned correctly allow one corner to touch and apply pressure.
Carefully go along the end repeating this action until you have one end firmly secured. Check that it is still aligned, If so, remove one of the strips,
and ensuring that there are no bubbles or wrinkles, stick down by applying pressure. Repeat this action until all the thin strips have been removed.
The final stage is the finishing of the article. One method of obtaining a good finish is to obtain some shellac sealer. Coat all surfaces with the sealer,
wait until they are completely dry and then flat down with a fine abrasive silicone carbide paper.
I would not use anything coarser than a 320 grit. Keep sealing and then flatting down until satisfactory ground is achieved and ready to accept the finish of your choice,
i.e. wax polish, French polish etc. A useful site would be Fiddes: http://www.fiddes.co.uk/
There are many ways of enhancing your work using Inlay Bandings, Boxwood , Ebony or black lines, marquetry inlays or marquetry lay on panels.
The use of lines /strings is useful in highlighting small profiles such as chair legs or rails whereas inlay Bandings are useful when borders are required for Chess or gaming panels as seen here.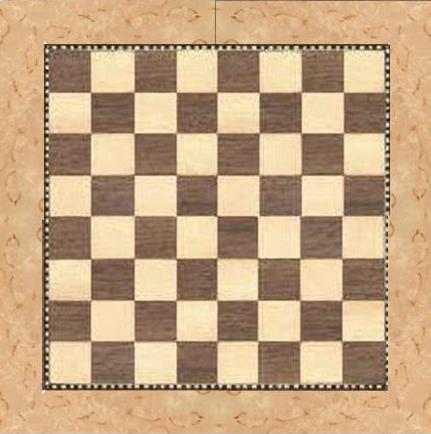 The above panel shows what can be achieved using walnut & sycamore with a boarder of inlay banding and a book-matched surround of Birch Masur
or one could just use a surround, the one shown below has a straight surround of walnut burr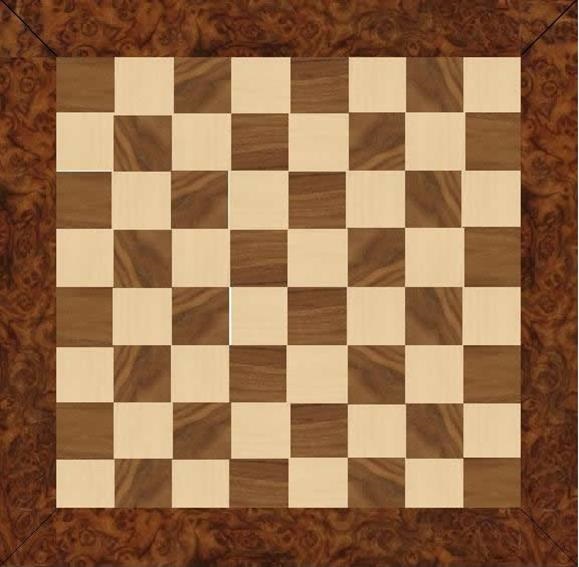 Small Marquetry inlays like these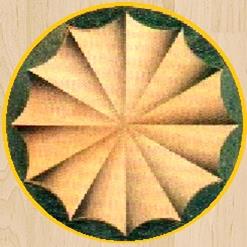 can be used as centre or corner pieces to decorate boxes, drawer fronts, small tables etc.


When applying wood veneer. All that is required is a little knowledge and a great deal of patience.
©
C. Pascoe MCB Supplies