SEE OTHER OAK SHEETS IN OUR
DISCOUNTED SHEET VENEER
-----------------------------------------------------------------------------
Oak European Crown Cut Wood Veneer
OEC/001
£22.67 per sheet + P&P
Nominal sheet size: 14.75" wide x 84" long
Sheets taper from 14.5"- 15" over their length
0 In Stock

-----------------------------------------------------------------------------
Oak European Quarter Cut Heavy Figured Wood Veneer
OEQHF/02
£13.54 per sheet + P&P
Nominal sheet size: 7" wide x 116" long
6 In Stock

----------------------------------------------------------------------------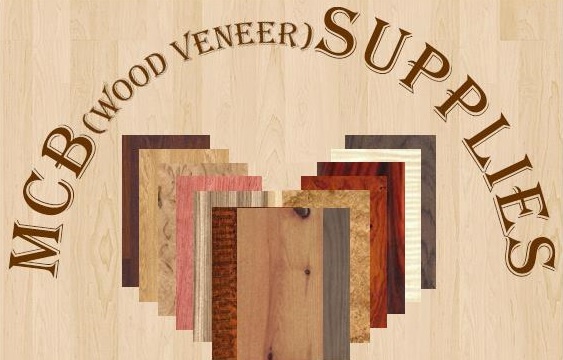 Raw sheet veneer is 0.6mm thick unless otherwise specified
ALL BUTTON PRICES ON THIS SITE ONLY INCLUDE P&P WITHIN THE UK.
CUSTOMERS OUTSIDE THE UK USING BUTTONS WILL RECEIVE AN E-MAIL WITH PAYMENT OPTIONS FOR ADDITIONAL POSTAGE COSTS
FOR REDUCED POSTAGE ON MULITIPLE PURCHASES PLEASE INPUT THE ITEM CODE / QUANTITY REQUIRED ON THE FORM
OAK WOOD VENEER EUROPEAN
Also known as: English Oak, French Oak etc. Also Bog Oak, Pippy, Cluster and Burr Oak
Botanical Name: Quercus robur, Q. petraea
Origin: Europe except northern Scandinavia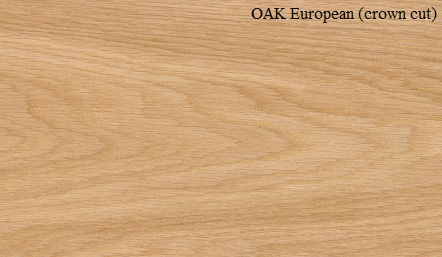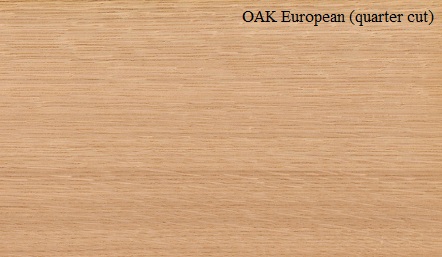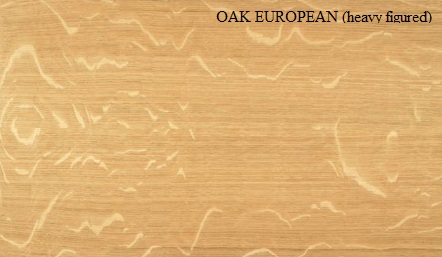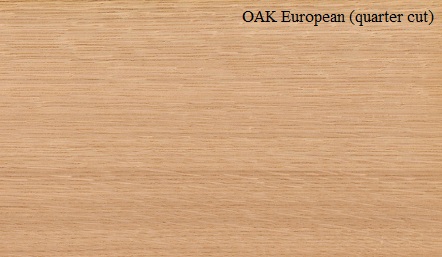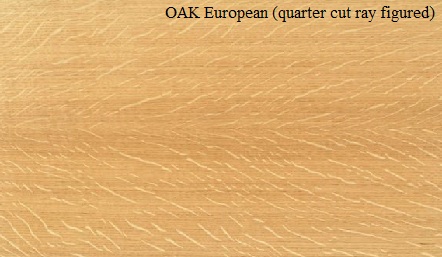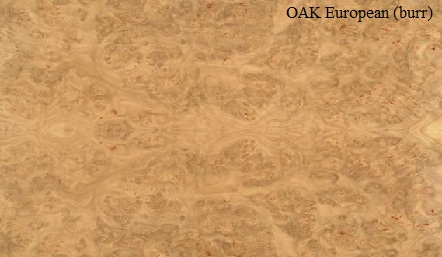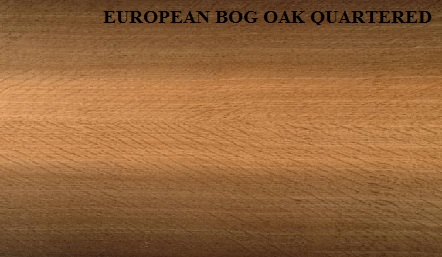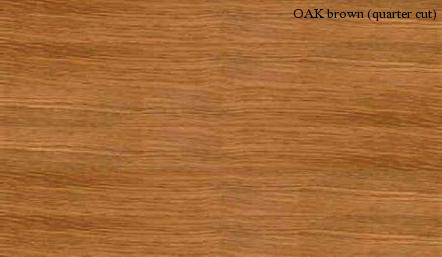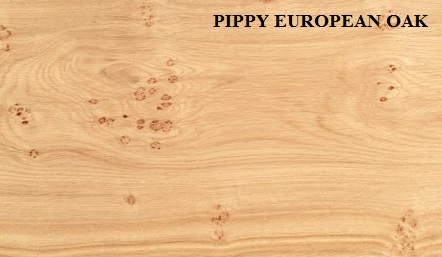 European Oak is one of the most popular wood veneers, versatile and varied in use and appearance. It is available, crown, quarter
or rift cut and also as a constructional veneer. When crown cut a fine cathedral is frequently to be seen at the centre of
the sheet. If rift cut a straight grained, usually plain appearance is the result, but when quartered medullary rays
are displayed across the straight grain often to marked decorative effect. When fresh the veneer is a pale creamy
brown but soon begins to age to a golden brown and ultimately when very aged can appear almost black.
Bog Oak is produced form trees that became buried in peat bogs. Over the aeons the wet, acid environment darkens the timber.
The resulting colour of the veneer can range from black to dark brown within a sheet.
Pippy Oak as its name implies is veneer which displays a varying amount of pippy clusters.
Brown Oak veneer is from British trees and its distinctive rich reddish brown colour is the result of a fungus attack.
European Oak burr has a warm rustic colour and appearance, usually showing many pips.